Techno | Author: writing | 07-11-2022
Moonki presents the Party Speaker Sound 265
High level peripherals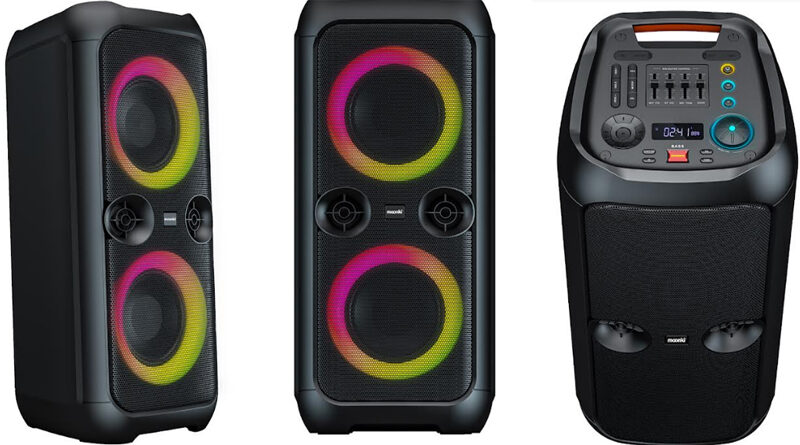 The brand announced the launch and availability of its new Speaker designed so that users can enjoy their music outdoors or indoors, and also autonomously thanks to its PMPO power: 1500w. and its 7A 12V Rechargeable Battery. Its features include: Woofer: 6.5" x 2, Tweeter: 2" x 2, Compatible with DSP sound, LED display, Ring lighting with dynamic effect, Bluetooth technology and wireless connection between units (TWS) and microphone input and for guitar.
Buenos Aires, November 7, 2022 – Moonki announced the launch and availability of its new Party Speaker Sound 265 in Argentina.
"We are very proud and with great expectations to announce the arrival of our new speaker in the Party Box category. This is our Party Speaker Sound 265 MW-PB265BLT model, designed so that users can enjoy their music outdoors and indoors thanks to its power, clear sound and powerful bass. This speaker has a maximum power of 1500W PMPO", explained Roman Marinelli, Moonki's Commercial Manager for Latin America and added: "It is very important to note that it has TWS (True Wireless Stereo) Connectivity to be able to pair two units wirelessly to enjoy in stereo the best sound".
"Our Party Speaker Sound 265 has a 7,000 milliamp battery for longer runtime. Up to 6 hours of playback, depending on the mode of use and also microphone and guitar inputs to accompany favorite songs and demonstrate the skills of different users," said Roman Marinelli, and stressed: "Its modern and minimalist design stands out, with dynamic light effects that accompany the music being played."
To see the official video, enter here: https://www.youtube.com/watch?v=AcyftRe39UA
Features of the Moonki Party Speaker Sound 265
Model: MW-PB265BLT
Specifications:
PMPO power: 1500w
RMS power: 2 x 50w
Woofers: 6.5" x 2
Tweeter: 2" x 2
Support DSP sound
Led screen
AUX line
Ring lighting with dynamic effect
Bluetooth wireless audio streaming
Inter-unit wireless connection (TWS) function
ex-bass function
Independent treble and bass equalization
Mic and guitar input
microphone priority
Echo / volume / mic equalizer control
Rechargeable Battery 7A 12V
Unit Dimension (L×W×H): 285 x 285 x 620mm
Unit Weight: 10.6 Kg
For more information: https://www.moonki.com/moonki-sound-mw-pb265blt--det--MW-PB265BLT
Price, availability and distribution of the Moonki Party Speaker Sound 265
The suggested final price is $85,799 pesos. Users will be able to find it in Musimundo, Frávega and Carrefour among other stores in the country.
The distribution is in charge of HDC.
About Moonki
Moonki is an international and innovative brand of audio solutions, whose operations center is located in the city of Miami. The company has a wide distribution network in different countries in the Latin American and Caribbean region. It has been marketed in Argentina since 2018. It has a very complete line of products, ranging from headphones and portable speakers to professional audio.
Moonki has a special focus on a mid-range of audio solutions with differential points that distinguish them from the competition. In recent years, a very strong job was done in the retail channel, which allowed them an important positioning in the market. The brand continues to grow constantly due to the demand generated through the end user, its sales force and the positive experiences in its products.
For more information you can enter https://www.moonki.com/